Republic of Great Britain
Talk

0
32,714
articles in progress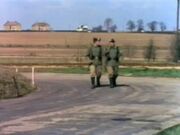 The
Republic of Great Britain
was an
alternative
Great Britain
which existed in
one parallel universe
.
The Republic was established at an unknown date prior to 1943 after the execution of the Royal Family for unknown reasons.
It was ruled by a fascist government. (TV: Inferno)
The country developed a close relationship with White Russia and worked with Russia to ensure peace in Europe by crushing Nazi Germany between two vast spheres of influence. The British Republic's ties with Russia lasted well into the 1970s. Kalashnikov and SKS rifles appear to have been the main weapons of the British armed forces.
At the time of the devastation, the Doctor's counterpart was the President of the Republic, known as the Leader. He was killed when the fallout from the disaster at Eastchester destroyed London. (PROSE: Timewyrm: Revelation)
The Republic maintained its own version of UNIT called the Republican Security Forces. The RSF fought a number of alien menaces, including a group of Bannermen who had landed in Wales in 1959, as they had in the primary universe, as well as the Great Intelligence, with the assistance of this universe's version of the Master, still known as Koschei. (PROSE: The Face of the Enemy)