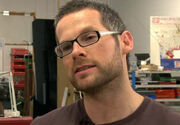 Rob Mayor was the prosthetics supervisor at Millennium FX, and this of many episodes of BBC Wales Doctor Who, Torchwood and The Sarah Jane Adventures, much of which went uncredited.
Rob Mayor has been interviewed in the Doctor Who Confidential episodes 'Ello, 'Ello, 'Ello and After Effects, in Doctor Who Magazine #356, and in Doctor Who Adventures #172. He describes ageing Freema Agyeman in the episode Dead Man Walking, in Torchwood Magazine #3. In one issue of Radio Times, Mayor game the magazine a guided tour of the storeroom at the Doctor Who and Torchwood studios. According to DWDVDF 32, Mayor operated the Clockwork Droids in The Girl in the Fireplace.
While Rob Mayor's credits are few, his involvement has been far more extensive. He's interviewed in After Effects, but not individually credited for The Hungry Earth or Cold Blood. He's interviewed in 'Ello, 'Ello, 'Ello, and yet not credited on Utopia. Rest assured, though: if Millennium FX was involved with prosthetics, Rob Mayor was likely there.
Prosthetics
Edit
Millennium FX studio manager
Edit
External links
Edit
Ad blocker interference detected!
Wikia is a free-to-use site that makes money from advertising. We have a modified experience for viewers using ad blockers

Wikia is not accessible if you've made further modifications. Remove the custom ad blocker rule(s) and the page will load as expected.