Ad blocker interference detected!
Wikia is a free-to-use site that makes money from advertising. We have a modified experience for viewers using ad blockers

Wikia is not accessible if you've made further modifications. Remove the custom ad blocker rule(s) and the page will load as expected.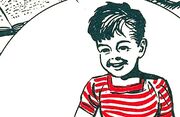 Roger Marlow
was the son of
Captain
Rod Marlow
.
In 2612 on his eleventh birthday, Roger's father got him an orbitus as a present. When "space gangsters" Karsoff and Sheer learned this, they kidnapped the boy. They offer to exchange him for the orbitus, which was a powerful piece of Skarosian technology. The orbitus itself managed to rescue Roger and help his father catch the kidnappers.
The police told Roger that there was a reward for their capture. He made sure the money went to worthy causes, since he felt amply rewarded by having the orbitus. (COMIC: The Orbitus)