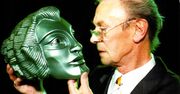 Russell Hunter played Kiy Uvanov in the Doctor Who story The Robots of Death.
Easily recognisable as an established TV supporting actor, he is perhaps better known for his role as "Lonely", friend and confidante to Edward Woodwards' "Callan". Hunter's popularity in this role grew so great that during later episodes of the series he was afforded starring roles.
Hunter appeared in many other British TV dramas and sitcoms during the 1960s and 1970s.
He was supposed to play the part of Willie Mackay in The Highlanders but dropped out and was replaced by Andrew Downie.
He reprised his role as Uvanov in five of six of the fully dramatised Doctor Who spin-off series Kaldor City.
External links
Edit
Ad blocker interference detected!
Wikia is a free-to-use site that makes money from advertising. We have a modified experience for viewers using ad blockers

Wikia is not accessible if you've made further modifications. Remove the custom ad blocker rule(s) and the page will load as expected.