San Francisco
Talk

0
37,281
articles in progress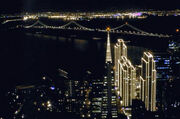 San Francisco
was a city located in
California
in the
United States of America
.
On 18 April 1906, San Francisco was ravaged by an earthquake and consumed by fire. Azathoth and her rakshassi army, having been diverted here by the Seventh Doctor, were consumed in the fire. (PROSE: All-Consuming Fire) The vampire known as Weird Harold was found buried alive after the earthquake. (PROSE: Vampire Science)
In 1967, when the city was the hub of the hippie movement, the Second Doctor, Ben Jackson and Polly Wright visited and battled the Goblin. (PROSE: Wonderland)
In 1976, the Eighth Doctor and Sam Jones visited San Francisco and saved Carolyn McConnell from a vampire. They then travelled to 1997 to battle more vampires. (PROSE: Vampire Science)
On 30 December 1999, the Seventh Doctor regenerated into his eighth incarnation. After an initial bout of amnesia, the newly regenerated Doctor stopped the Master from stealing his body and destroying the Earth, with the help of Dr. Grace Holloway. (TV: Doctor Who)
On 31 December 1999, the renegade Time Lady Iris Wildthyme and her companion Panda arrived in San Francisco in her TARDIS. Immediately after their arrival, Iris spilled gin into the bus' control and out into Time Vortex, resulting in various different versions of Panda from alternative realities crossing over into the primary universe. With the assistance of Dr. George Strangeways, Iris was able to close the rift, though not before the Panda from the primary universe had been dragged into it. Iris told Dr. Strangeways that, on her previous visit to San Francisco, she brought two humpback whales back to the future in order to save Earth. (AUDIO: The Panda Invasion)
On Christmas Day 2000, an unknown incident occurred in San Francisco. The Doctor attempted to save Chang Lee from this event by telling him, on New Year's Day, to take a Christmas holiday. (TV: Doctor Who)
In November 2002, the Doctor, Sam and Fitz Kreiner visited San Francisco. Sam and the TARDIS fell into a dimensional anomaly. Sam was reverted to her original timeline, but sacrificed herself to save the TARDIS and San Francisco. (PROSE: Unnatural History)
In 2011, San Francisco fell into the sea. (PROSE: The Janus Conjunction) However, a city named San Francisco was around in the 22nd century (PROSE: The Face-Eater) and the 26th century. (PROSE: Beige Planet Mars) It is not clear whether it was rebuilt in the same place.