Sanchez
Talk

3
40,089
articles in progress
Lieutenant General Sanchez was a US Army general and a high-ranking UNIT officer.
Biography
Edit
Sanchez was in command of at least one UNIT base and possibly UNIT's American branch when the Daleks invaded the Earth in 2009. He had appointed Martha Jones the Medical Director of Project Indigo, an experimental teleportation system which used Sontaran technology. Sanchez and the United Nations declared an Ultimate Code Red when the Dalek message of Exterminate! was conveyed to the human race.
When the Daleks invaded UNIT's base in New York City, Sanchez and another soldier attempted to fight the Daleks as Sanchez ordered Martha to escape by means of the Project Indigo prototype. She took the Osterhagen Key with her. Sanchez was exterminated by Daleks after Martha teleported to safety. (TV: The Stolen Earth)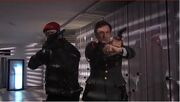 Within UNIT hierarchy
Edit
Sanchez ranked above Colonel Mace and held the power to authorise use of the Osterhagen Key. He still took orders from Geneva.
Behind the scenes
Edit
His right-sleeve shoulder patch indicates that he previously served in a combat theatre with the 82nd Airborne Division. His left shoulder bears a Ranger tab, indicating he successfully completed Ranger School. A Master Parachutist Badge can clearly be seen on the left breast pocket of his uniform coat, underneath his ribbons, along with a Pathfinder Badge, in the scene where he approaches Martha saying that Project Indigo is being activated and in scenes thereafter.
Sanchez uses the term "quick march" when speaking to Martha. Either he is using the British command in deference to Martha's nationality (the equivalent American term is "double time") or this is another example of British word usage seeping into the dialogue of American characters, such as those in Peri Brown and Canton Delaware's dialogue.