Doctor Who: Say What You See was a game released for Android and iOS in 2013.
Gameplay
Edit
Similar to the TV show Catchphrase, the player must guess the name of an episode, character, or object seen in Doctor Who based on a visual clue. The given example is a C with devil horns, is a Sea Devil. There are three canvases available at launch, the Tardis, Totter's Lane, and Gallifrey, with more to follow. Each canvas has 50 puzzles.
Pictures
Edit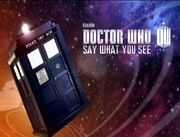 There are several pictures shown in the game, which are all related to Doctor Who. For example there is a man who dances with a girl inside the TARDIS. This pictures relates to the Doctor Who Episode The Doctor Dances. After writing The Doctor Dances a short fact file about the episode appears. If you tap "reveal" then you will get one hint to a picture. Some pictures have more than one solution.
Say what you see Solutions
Edit
References
Edit
to be added
External links
Edit
Ad blocker interference detected!
Wikia is a free-to-use site that makes money from advertising. We have a modified experience for viewers using ad blockers

Wikia is not accessible if you've made further modifications. Remove the custom ad blocker rule(s) and the page will load as expected.