Season 21
Talk

0
32,723
articles in progress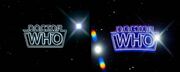 Season 21 of Doctor Who ran between 5 January 1984 and 30 March 1984. It starred Peter Davison as the Fifth Doctor. The last story, The Twin Dilemma, introduced Colin Baker as the Sixth Doctor.
Overview
Edit
The season consisted of seven serials and twenty-four episodes. The Twin Dilemma, the first story with Colin Baker as the Sixth Doctor, aired last in the season. This season saw the departure of companions Tegan, Turlough and Kamelion and introduced Peri. Most episodes were the traditional twenty-five minute length. However, due to coverage of the 1984 Winter Olympics, Resurrection of the Daleks was re-edited before airing and shown as two forty-five minute episodes.
Colin Baker's first story, The Twin Dilemma, introduced a modified version of the opening credits including a slight modification to the series logo (although the theme arrangement was not changed). This was the first time since Season 4 that such a change occurred during a season.
Along with Season 4, it was one of only two seasons of the classic series to have a completely different cast in the final story of the season than in the first story.
Television stories
Edit
Primary cast
Edit
Secondary cast
Edit
Guest cast
Edit
Stories set during this season
Edit
Adaptations and merchandising
Edit
Home media
Edit
Warriors of the Deep
The Awakening/Frontios
Resurrection of the Daleks
Planet of Fire
The Caves of Androzani
The Twin Dilemma
All serials of season 21 were released individually in between 2002 and 2011.
Serial name
Number and duration
of episodes
R2 release date
R4 release date
R1 release date
Warriors of the Deep
Only available as part of the Beneath the Surface box set in Regions 2 and 4.
Available individually or in the box set in Region 1.
4 × 25 min.
14 January 2008
5 March 2008
3 June 2008
The Awakening
Only available as part of the Earthstory box set in Regions 2 and 4.
Only available individually in Region 1.
2 × 25 min.
20 June 2011
4 August 2011
12 July 2011
Frontios
4 × 25 min.
30 May 2011
7 July 2011
14 June 2011
Resurrection of the Daleks
Available individually or in The Complete Davros Collection box set in Regions 2 and 4.
Only available individually in Region 1.
4 × 25 min.
(Original Version)
18 November 2002
3 February 2003
1 July 2003
Resurrection of the Daleks – Special Edition
Only available as part of the Revisitations 2 box set in Regions 2 and 4.
Only available individually in Region 1.
4 × 25 min.
(Original Version)
2 × 46 min.
(Broadcast Version)
28 March 2011
5 May 2011
12 June 2012
Planet of Fire
Only available as part of the Kamelion Tales box set in Regions 2 and 4.
Only available individually in Region 1.
Includes remastered "movie version" with new footage.
4 × 25 min.
(Broadcast Version)
1 × 66 min.
(Special Edition)
14 June 2010
5 August 2010
7 September 2010
The Caves of Androzani
4 × 25 min.
18 June 2001
7 January 2002
2 April 2002
The Caves of Androzani – Special Edition
Only available as part of the Revisitations 1 box set in Regions 2 and 4.
4 × 25 min.
4 October 2010
2 December 2010
14 February 2012
The Twin Dilemma
4 × 25 min.
7 September 2009
3 December 2009
5 January 2010
External links
Edit