Ad blocker interference detected!
Wikia is a free-to-use site that makes money from advertising. We have a modified experience for viewers using ad blockers

Wikia is not accessible if you've made further modifications. Remove the custom ad blocker rule(s) and the page will load as expected.

Season 8
25 episodes comprising 5 stories
starting with Terror of the Autons
Doctor:
Third Doctor
Companion(s):
Jo, Brigadier, Benton, Yates
Key crew
Producer(s):
Barry Letts
Script editor(s):
Terrance Dicks
Series details
Start date:
2 January 1971
End date:
19 June 1971
Premiere network:
BBC1
Typical episode length:
25'
More info
DWMSE:
2, 15
Key reference books about the season:
The Discontinuity Guide, The Third Doctor Handbook, The Seventies, About Time 3
Key documentaries about the season:
Jon and Katy, PanoptiCon 93
Relevant Myth Makers interviews:
Nicholas Courtney, Jon Pertwee, Richard Franklin, Barry Letts and Terrance Dicks (part 1), Barry Letts and Terrance Dicks (part 2), Roger Delgado, Katy Manning, Bob Baker and Dave Martin, Robert Sloman, John Levene
←Previous
Next→
7
9
The eighth season of Doctor Who ran between 2 January 1971 and 19 June 1971. It starred Jon Pertwee as the Third Doctor.
Overview
Edit
As of November 2012companion in the form of Jo Grant, but it featured a regular enemy — the Master — and an expanded regular UNIT cast that now included Sergeant Benton and Mike Yates in most episodes. Adding in returning regulars Jon Pertwee and Nicholas Courtney, the regular cast swelled to six.
, season 8 remains notable for being the season with the most number of regular characters. Not only did it see a new
Television stories
Edit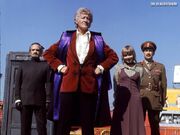 Recurring
Edit
Stories set during this season
Edit
Adaptations and merchandising
Edit
Home media
Edit
Terror of the Autons (1993) (colour restoration)
The Mind of Evil (1998) (in B/W)
The Claws of Axos (1992)
Colony in Space (2001)
The Dæmons (1993) (colour restoration)
The Pertwee Years (1992) (The Dæmons episode 5 - in B/W)
Serial name
Number and duration
of episodes
R2 release date
R4 release date
R1 release date
Terror of the Autons
Only available as part of the Mannequin Mania box set in Regions 2 and 4.
Only available individually in Region 1.
4 × 25 min.
9 May 2011
2 June 2011
10 May 2011
The Mind of Evil
6 × 25 min.
3 June 2013
5 June 2014
11 June 2013
The Claws of Axos
4 × 25 min.
25 April 2005
2 June 2005
8 November 2005
Colony in Space
6 × 25 min.
3 October 2011
1 December 2011
8 November 2011
The Dæmons
5 × 25 min.
19 March 2012
19 April 2012
10 April 2012
Download/streaming availability
Edit
External links
Edit