Series 1 (SJA)
Talk

0
39,500
articles in progress
The first series of The Sarah Jane Adventures was broadcast following the broadcast of a special 60-minute episode on 1 January 2007. The season proper aired between 24 September 2007 and 19 November 2007 and consisted of five two-part stories, with each episode running 25 minutes in length (the first time 25-minute episodes have been used in the Doctor Who franchise since the parent series ended in 1989).
Cast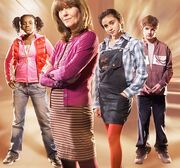 Recurring
Guest
Television stories
Although broadcast separately from the rest of the season, the BBC considers Invasion of the Bane to be part of Series 1, and released it as such to DVD.
Aliens and enemies
Novels
Series 1 of The Sarah Jane Adventures marked the first time since The Novel of the Film in 1996 that novelisations were commissioned for televised episodes of a Doctor Who franchise production. The first four novelisations were published in 2007, with the last two following in 2008.
Audiobooks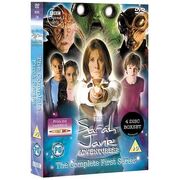 Home video releases
Invasion of the Bane was released on a vanilla DVD on 29 October 2007.
It was the first Doctor Who related DVD to not be released by 2Entertain since 2005's Doctor Who Volume 2.
The Complete First Series (including Invasion of the Bane) was released on 10 November 2008.
Footnotes