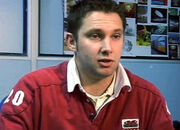 Shaun Williams, also credited as Richard Shaun Williams, has been a concept and storyboard artist for the BBC Wales version of Doctor Who on every series except series 1. He began his work on Doctor Who with The Girl in the Fireplace. He was also the storyboard artist on the first episode of The Sarah Jane Adventures.
Though normally a pre-production artist, his work has been included in the final cut of an episode. He was notably responsible for the shadowy figure of the "dad in the closet" in the episode, Fear Her.
He made appearances on Doctor Who Confidential and Totally Doctor Who.
As storyboard artist
Edit
As concept artist
Edit
As storyboard/concept artist
Edit
External link
Edit
Ad blocker interference detected!
Wikia is a free-to-use site that makes money from advertising. We have a modified experience for viewers using ad blockers

Wikia is not accessible if you've made further modifications. Remove the custom ad blocker rule(s) and the page will load as expected.