Ad blocker interference detected!
Wikia is a free-to-use site that makes money from advertising. We have a modified experience for viewers using ad blockers

Wikia is not accessible if you've made further modifications. Remove the custom ad blocker rule(s) and the page will load as expected.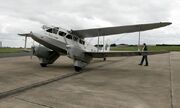 The Sky Gypsy was a de Havilland Dragon Rapide aeroplane flown by Diane Holmes. Emma-Louise Cowell and John Ellis were passengers. They departed Cardiff for Dublin on 18 December 1953, but flew through the Cardiff rift and ended up in Cardiff in 2007.
Under the same conditions, Diane took flight again, hoping to pass through the rift once more, (TV: Out of Time) on Christmas Eve. The fate of the voyage was unclear, and Owen Harper opposed it, having fallen in love with Diane. He later tried to open the rift again to learn what happened to her and the Sky Gypsy (TV: Captain Jack Harkness), but his actions had severe consequences for the world when the rift expelled not the plane, but a myriad of dangers. (TV: End of Days)