Ad blocker interference detected!
Wikia is a free-to-use site that makes money from advertising. We have a modified experience for viewers using ad blockers

Wikia is not accessible if you've made further modifications. Remove the custom ad blocker rule(s) and the page will load as expected.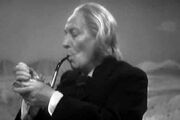 Smoking pipes were devices used to aid in the inhalation of the smoke of a burning substance — on Earth, often tobacco. Because they came in a variety of different styles, they were both fashion accessories and functional objects.
The First Doctor smoked a pipe on prehistoric Earth, (TV: An Unearthly Child) and the Fourth Doctor took a draw from Christopher Marlowe's pipe in 1593 London. (PROSE: All Done with Mirrors)
Inspector Arnold Porter smoked a pipe. (COMIC: The Curious Tale of Spring-Heeled Jack)
George Litefoot smoked a pipe of tobacco. When Leela did not recognise what it was, he questioned her origins. (TV: The Talons of Weng-Chiang)
Captain Ransom smoked a pipe. (TV: The War Games)
Charles Rigby routinely spent his evenings smoking his pipe. (PROSE: Eater of Wasps)
Unconventionally for a woman, Liz Shaw enjoyed smoking a pipe. (HOMEVID: The Zero Imperative, PROSE: Who Killed Kennedy)
Naturalist Brian Phipps, a friend of the Third Doctor and father to Tom Phipps, was a pipe smoker. (COMIC: The Vortex)
John Ellis began smoking a pipe in a restaurant before he was told he could not smoke there. (TV: Out of Time)
The Eleventh Doctor used a pipe as a prop when impersonating Sherlock Holmes, but did not smoke it. (TV: The Snowmen)