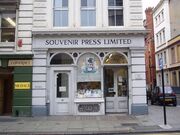 Souvenir Press Ltd is an independent publisher established in 1951 by its long-time owner and manager, the Czechoslovakian émigré Ernest Hecht. Souvenir Press has published a great variety of books including the Modesty Blaise novels, the poetry of Pablo Neruda, evolutionary anthropological writings about the aquatic ape hypothesis, and a novelisation of The Andromeda Breakthrough. As of 2007, Hecht still owns and manages the company.
In 1964, Jack Fishman of John Hill Productions, a publishing company with an informal relationship with Souvenir Press, came up with the idea of publishing a book about the Daleks and worked with Terry Nation on it. Souvenir Press went about getting the approval of the British Broadcasting Corporation which had ownership of the Daleks' design. Multiple subsequent agreements with Terry Nation allowed Souvenir Press to produce, in collaboration with Panther Books and John Hill Productions, a number of Dalek-themed Annuals, painting guides, and a pocketbook reference between 1964 and 1966.
See also
Edit
Ad blocker interference detected!
Wikia is a free-to-use site that makes money from advertising. We have a modified experience for viewers using ad blockers

Wikia is not accessible if you've made further modifications. Remove the custom ad blocker rule(s) and the page will load as expected.