Ad blocker interference detected!
Wikia is a free-to-use site that makes money from advertising. We have a modified experience for viewers using ad blockers

Wikia is not accessible if you've made further modifications. Remove the custom ad blocker rule(s) and the page will load as expected.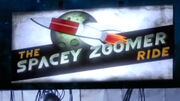 The Spacey Zoomer Ride was an anti-gravity ride on Hedgewick's World of Wonders that resembled Earth's moon. In the background was a plaque meant to represent the Earth itself. The ride was controlled by remote, and consisted of floating around due to anti-gravity.
When the Eleventh Doctor and Clara Oswald brought Angie and Artie Maitland there, they thought that the ride was the Moon. They later participated in the ride; Artie found it to be "the most fun [he's] ever had in [his] whole life," while Angie described it as simply "okay." (TV: Nightmare in Silver)