Spare Parts (audio story)
Talk

0
32,651
articles in progress

Spare Parts was the thirty-fourth monthly Doctor Who audio story produced by Big Finish Productions. It was released in July 2002. It saw a return to Mondas for Peter Davison's Fifth Doctor and his companion Nyssa, played by Sarah Sutton. This story was the inspiration for two 2006 Doctor Who television episodes; it had a credit in both TV: The Age of Steel and TV: Rise of the Cybermen.
Publisher's summary
"I'm not even sure they are people by the end. They're just so many tinned left-overs..."
On a dark frozen planet where no planet should be, in a doomed city with a sky of stone, the last denizens of Earth's long-lost twin will pay any price to survive, even if the laser scalpels cost them their love and hate and humanity.
And in the Mat-infested streets, round about tea-time, the Fifth Doctor and Nyssa unearth a black market in secondhand body parts and run the gauntlet of augmented police and their augmented horses.
And just between the tramstop and the picturehouse, the Doctor's worst suspicions are finally confirmed: the Cybermen have only just begun, and the Doctor will be, just as he always has been, their saviour...
Plot
to be added
Cast
References
Species
Yvonne has a pet Cybermat.
The Doctor tries to fight off a Cyberman with gold, but it has no effect.
This story marks the first chronological appearance of a Cyber-Planner. It originates in a union of the brightest minds of the Mondasian Council.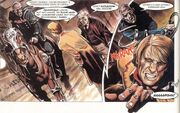 Notes
Continuity
External links
Big Finish monthly releases
All stories of the main monthly range are included in this navigation box including the "subscriber only" stories which are part of Big Finish Productions' subscription for this range. All other stories are represented in other navigation boxes.