Squidbaby23 was a nickname of a girl.
In 2007 when ghosts appeared all over the world, she was watching Ghostwatch with Suzy Monroe. Squidbaby23 wrote an SMS to the TV show asking them where the ghost came from, who and what they were. (WC: Ghostwatch)
Behind the scenes
Edit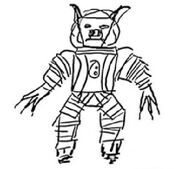 Squidbaby23 saw the Space Pig and drew a picture of it. (GAME: Defend This) She sent the drawing and a photo of the space pig to the whoisdoctorwho.co.uk website.[1]
Footnotes
Edit
Ad blocker interference detected!
Wikia is a free-to-use site that makes money from advertising. We have a modified experience for viewers using ad blockers

Wikia is not accessible if you've made further modifications. Remove the custom ad blocker rule(s) and the page will load as expected.