Star Trek (franchise)
Talk

16
37,281
articles in progress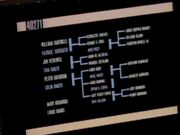 The Star Trek franchise has made several references to the Doctor Who universe, and the two also share some behind-the-scenes commonalities.
Overview
Edit
References to Doctor Who in Star Trek narratives Edit
Television
Edit
Other media
Edit
Paramount Pictures, owner of the Star Trek franchise, does not consider anything other than the live action Star Trek television series and films canon. Nevertheless, there are licensed comic and prose stories, and these have very occasionally referenced the DWU.
Cast connections
Edit
Due to the two franchises being produced in different countries, shared cast members are rare. Most of the connections between the two franchises have occurred as a result of the three productions with extensive North American filming: the 1996 movie, TV: The Impossible Astronaut, and Torchwood: Miracle Day. Star Trek actors who crossed over because of these productions include Daphne Ashbrook, John de Lancie, Nana Visitor, Mark Sheppard and William Morgan Sheppard.
Conversely, several British actors appeared in the Star Trek franchise after their Doctor Who appearances. Perhaps the most high profile is Simon Pegg, who after appearing in TV: The Long Game as the Editor and narrating a series of Doctor Who Confidential, went on to star in the 2009 film, Star Trek as Scotty.
Finally, those such as Alexander Siddig and David Warner have crossed over into the DWU by virtue of voice acting work, typically for Big Finish Productions. In 2012, Chase Masterson debuted the character of Vienna Salvatori in AUDIO: The Shadow Heart, with a spin-off audio series which followed in 2013, making Masterson the first Star Trek actor to take an ongoing lead role in a Doctor Who spin-off.
Rarely, people like Anthony Head have gone in the opposite direction with voice work, by reading audiobooks for the Star Trek franchise.
Noel Clarke and Benedict Cumberbatch appear in the 2013 film, Star Trek Into Darkness, Cumberbatch playing one of the film's villains, "John Harrison".
Crew connections
Edit
According to The Nth Doctor, in 1994, Leonard Nimoy, who played the original Mr. Spock and directed two Star Trek feature films, was reportedly under consideration to direct one of the many aborted Doctor Who feature film projects under consideration during the 1989-96 interregnum.
TV movie composer John Debney also composed scores for the Star Trek: The Next Generation episode "The Pegasus" and the Star Trek: Deep Space Nine episodes "The Nagus" and "Progress". Tony Dow, who worked as visual effects producer for the TV movie, later directed the Deep Space Nine episode "Field of Fire".
Torchwood: Miracle Day writers Jane Espenson and John Shiban have also written episodes for Deep Space Nine and Star Trek: Enterprise respectively. Other writers, such as Una McCormack, have written for both franchises in other media.
Crossovers, planned and actual
Edit
In April 2009, Russell T Davies revealed in an interview that he had considered writing a [Doctor Who episode that crossed over with Star Trek: Enterprise.
"I would have loved to have done a Star Trek crossover," said Davies. "The very first year, we talked about it. Then Star Trek finally went off air. Landing the TARDIS on board the Enterprise would have been magnificent. Can you imagine what their script department would have wanted, and what I would have wanted? It would have been the biggest battle."
In 2012 IDW Publishing is releasing an official 8-issue crossover series titled Star Trek: The Next Generation/Doctor Who: Assimilation². The first issue was released on 30 May 2012.
Other information
Edit
See also
Edit
Star Trek, for mentions and allusions to the Star Trek franchise in Doctor Who stories
External links
Edit
Cite error: <ref> tags exist, but no <references/> tag was found