Strax
Talk

19
32,712
articles in progress
Commander Strax was a Sontaran commander who was demoted to Nurse by the Sontaran Empire. He fought and died at the Battle of Demons Run, to repay the Doctor, whom he owed a debt to for saving his life. Strax was later resurrected by Vastra and Jenny Flint and lived in Victorian London with them, acting as their butler.
Biography
Edit
Early life
Edit
Strax was one of many people who owed the Doctor a debt. He had been demoted to nurse at some point in his life, claiming it was to restore the honour of his clone batch. (TV: A Good Man Goes to War)
Death and resurrection
Edit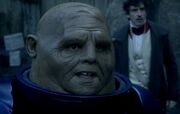 In the year 4037, Strax was tending to human soldiers at the Battle of Zaruthstra when he was summoned by the Doctor to help in the mission to rescue Amy and her baby at Demons Run, which offered him a chance to once again experience the pleasure of battle. He was seriously wounded in the battle with the Headless monks when one struck him from behind with its sword. As he struggled with what he believed to be his last breaths, Strax noted how he had once longed to die in combat, but now he didn't find it as enjoyable as he had thought it would be. Rory tried to comfort him, saying he was sure he would recover, but Strax reminded Rory that he was a nurse, too. However, he admitted that he had had a good life, and was pleased to live nearly twelve years. (TV: A Good Man Goes to War)
Following his death Strax was brought back to life by Jenny and Madame Vastra, using the same device with which Strax would later effect Clara Oswin Oswald's resurrection. Indeed, the Doctor later explicitly told Oswald that Strax died and had been resurrected. (TV: The Snowmen) However, at the precise instant he regained consciousness at Demons Run — two days after sustaining his fatal injuries — Jenny de-emphasised the severity of his wounds by telling Strax that he had just fainted. This annoyed the Sontaran who had wanted to have the glory of dying in battle. The Victorian couple then offered to take him home with them to 1888 London. At first he declined, but quickly changed his mind. (WC: The Battle of Demons Run: Two Days Later)
He went on to work with Vastra and Jenny in Victorian London. (TV: The Great Detective, WC: A Christmas Prequel)
Victorian butler
Edit
In an undetermined year in December, Strax was sent to the Ranskill Gardens meet with Felicity Gregson, a woman who claimed to have evidence of a strange crash behind her house a few nights earlier, whom Madame Vastra was unable to meet with due to her appearance at the Russian embassy. Instead, he ran into Harry, who claimed to have found a woman in his snowman who died. He brought Harry back to Paternoster Row to tell his account to Madame Vastra.
Despite his remarks about Moonites and his belief that they were in alliance with the Rutan Host, Strax showed his tactical expertise on many occasions, such as having built a secret exit inside Vastra's internal chamber, allowing them to escape the fog-like alien creature who was after Harry. He also showed his brute physical strength on several occasions to protect Harry, Jenny, and Vastra. He was eventually put in charge of protecting Harry while Vastra and Jenny fought the fog-like alien invader and discovered that the creature could be killed with snow, which allowed him to save both Harry, Madame Vastra, and Jenny. By the end he'd taken a liking to Harry and offered to recommend him to the Sontaran Greater Military Academy. (PROSE: Devil in the Smoke)
Defeating the Great Intelligence
Edit
Strax was later accompanying the Doctor when he met Clara Oswald. After the Doctor locked Clara in his carriage, Strax tried to persuade him to examine the alien snow that was falling around London. The Doctor, still grieving for the losses of Amy Pond and Rory Williams refused to get involved and ordered Strax to get a Memory worm to erase the last hour of Clara's memory. Strax forgot to put gauntlets on twice and the amused Clara passed them to the Doctor and he retrieved the Memory worm himself and put it in a jar. Then a Snowman burst from the snow and attacked the Doctor and Clara followed by several more. They melted when Clara pictured them doing so as the Doctor realised that they were feeding off her thoughts. He then told Strax to take Clara back to the pub where the Doctor had found her, having decided not to wipe her memory because if he did she would forget how to protect herself from the Snowmen.
Strax later met Clara when she visited Vastra in order to find out more about the Doctor. After threatening her with obliteration he politely asked "may I take your coat?" and left Clara with Vastra and Jenny. After Clara persuaded the Doctor to get involved with the word "Pond" Strax went to see if the Time Lord needed any help. The Doctor sent him away after insulting his intelligence but Strax teased him by calling him "Sherlock Holmes".
Strax was later involved in protecting Latimer and his two children when Walter Simeon arrived with a group of Snowmen. He displayed his combat expertise by recognising that the Snowmen were in a defence formation and choosing the most defendable area to make their stand which was Latimer's office. When Clara fell to her death from a cloud, Strax used some alien technology, most likely the technology that had brought him back to life, to revive her. After the Doctor and Vastra defeated Simeon and the Great Intelligence, Strax sorrowfully informed them that Clara only had moments left. The Doctor lost another companion that night, but on the day of her funeral he realised that another version of her was living in another part of the Universe and rushed off to find her. (TV: The Snowmen)
Personality
Edit
Strax generally displayed traits that were normal for a Sontaran, such as a willingness to die in battle and a love of fighting. Despite being demoted to nurse at some point in his life, Strax was still a fierce warrior who was willing to face overwhelming odds without hesitation or fear. An example of this trait was when he and several of the Doctor's allies were outnumbered by the Headless Monks yet fought valiantly against them. He also showed a willingness to kill people he had once helped; for example after healing a human boy he told him that he hoped to one day defeat him in mortal combat. (Which is a compliment)
However, Strax also had a softer side and appeared to like children, tending to a young boy during the battle of Zaruthstra and offering to breastfeed Melody Pond, seeming rather affronted when Rory and Amy refused his offer. After becoming a nurse, he gene-spliced himself for all nursing duties. He told Rory that he could produce "magnificent quantities" of lactic fluid. Strax had vast medical knowledge, so much so that he would even give advice to his enemies during confrontation; as when the Doctor's forces surrounded Colonel Manton and his unarmed Clerics, Strax told him not to slump as it was bad for his spine. His softer side was also shown by the sorrow he expressed when Clara Oswald was dying.
Despite the fact that most Sontarans considered the Doctor to be an enemy, Strax was a loyal ally to the Time Lord and did not appear to have any grudge against him. Before his resurrection Strax commented that he wasn't enjoying dying in battle as much as he'd hoped. However he was grateful for having lived nearly twelve years which, for a Sontaran, was quite a long life. When Rory tried to comfort him, insisting that he was a warrior and he could survive, Strax corrected him - he was a nurse. In the end, Strax found a greater nobility in healing than in killing. (TV: A Good Man Goes to War)
After his resurrection, Strax declared war on the Moon. He thought that it had been over them far too long and had gained a tactical advantage. When it was noted that the Moon was uninhabited, he stated that that meant "now is the best time to strike!" When something bad happened, thus, he sometimes would blame the moon, such as when the Eleventh Doctor retired from protecting Earth. Strax also had a tendency to "compliment" people by telling them how much he would enjoy destroying them in battle, possibly interpreting that as telling them that he considered them a worthy opponent.(TV: A Good Man Goes to War, The Battle of Demons Run: Two Days Later, The Great Detective)
Strax was not very intelligent but he was loyal and well meaning. The Doctor implied that his resurrection had affected his intelligence thinking that not all of his mind had "made the return trip" when he came back to life. Sometimes he would say something clever, which the Doctor said didn't suit him. The Doctor was often condescending towards the Sontaran, although Strax didn't seem to mind the insults directed at him, even finding amusement in them. Strax preferred to deal with problems through force and often suggested weapons or battle tactics that could help in times of need which commonly exasperated his friends.
Since he was still adapting to life on Earth, Strax often said things that were either threatening or insulting such as when he told Clara she would be "obliterated" if she tried to escape and informed Captain Latimer that he had a "puny human mind". However he would often follow these statements with something more appropriate such as "May I take your coat?" and "Try not to worry", showing that he really was trying to fit in as best he could. Strax also had a tendency to get human genders mixed up, mistaking both Jenny and Clara for boys due to his lack of knowledge about their species. The Doctor stated that "two genders is a bit further than he can count". (TV: The Battle of Demons Run: Two Days Later, The Snowmen)
Abilities
Edit
Like most Sontarans, Strax was a mighty warrior, shooting down many headless monks during the Battle of Demons Run. His skills in battle were so great that he had survived for at least twelve years, which was an uncommonly long lifespan for a Sontaran. Strax was highly resilient, being able to stay alive long enough to be healed by Vastra and Jenny after being seriously wounded at Demons Run. Furthermore, Strax was knowledgeable about battle strategies and formations, recognizing that Simeon's Snowmen were in a defensive formation instead of an offensive one, and frequently giving battle advice to his friends, although often at inappropriate times.(TV: A Good Man Goes to War, The Snowmen)
Strax was also a nurse, an unusual and humiliating position for a Sontaran. Although he acted as though he disliked being a nurse, Strax nonetheless showed considerable medical knowledge tending to a wounded boy and assuring him that he's be fine and warning Colonel Manton that slumping was bad for his spine. He's even had himself spliced for all nursing duties, including breast feeding. However when Strax was seriously wounded during the battle of Demons Run, he thought that he didn't stand a chance of survival, although it should be noted that his wounds would have been fatal if not for the resurrection technology.(TV: A Good Man Goes to War, The Battle of Demons Run: Two Days Later)
Behind the scenes
Edit