Sunset Park was the name of a park and the surrounding neighbourhood in Brooklyn, New York City.
The park extended until the 41st Street to the north, 44th Street to the south and 5th Avenue to the west. Sunset Swimming Pool was situated in the eastern part of the park. A New York City Police Department was situated one block west from the park.
Gabby Gonzalez and her family lived in this neighbourhood, as did Cindy Wu. Gabby's father Miguel owned a Mexican restaurant there, The Castillo Mexicano, as well as a laundromat. Ricardo Mendoza was a city councillor for the neighbourhood. Green-Wood Cemetery was located next to the neighbourhood.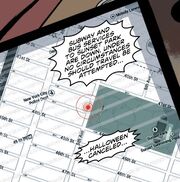 In the 21st century, the Tenth Doctor visited Sunset Park in response to alien activity in the area. With the help of Gabby, he stopped the Cerebravore invasion that was beginning there. (COMIC: Revolutions of Terror)
Ad blocker interference detected!
Wikia is a free-to-use site that makes money from advertising. We have a modified experience for viewers using ad blockers

Wikia is not accessible if you've made further modifications. Remove the custom ad blocker rule(s) and the page will load as expected.