Sword of Orion (audio story)
Talk

0
41,274
articles in progress

Sword of Orion was the seventeenth monthly Doctor Who audio story produced by Big Finish Productions. This was a double first, being the first Big Finish story to feature the Cybermen, and the first Eighth Doctor story to feature the Cybermen. This is also another of Big Finish's stories which was originally created as part of the Audio Visuals, a fan produced series which featured many people who went onto create and work for Big Finish and BBV Productions. Nicholas Briggs filled many roles in the production of this story — he provided the voice of the Cybermen, sound design, music, direction, and writing.
Publisher's summary
Edit
The human race is locked in deadly combat with the "Android Hordes" in the Orion System. Light years from the front line, the Eighth Doctor and Charley arrive to sample the dubious delights of a galactic backwater, little suspecting that the consequences of the Orion War might reach them there. But High Command's lust for victory knows no bounds.
Trapped aboard a mysterious, derelict star destroyer, the Doctor and Charley find themselves facing summary execution. But this is only the beginning of their troubles. The real danger has yet to awaken.
Until, somewhere in the dark recesses of the Garazone System, the Cybermen receive the signal for reactivation...
Charley is worried about Ramsey looking ill. She and the Doctor can't carry him to the control room and Ramsey is dying from being away too long from the time vortex. The two set off to find some medicine for Ramsey.
to be added
References
Edit
Real World
Edit
Charley mentions Aladdin's cave.
The Doctor
Edit
The Doctor finds a recorder in the smugglers shop and plays it to Charley; he has lost practice. (TV: The Power of the Daleks et al.)
The Doctor tells Charley to grab a book and take it with them from the smugglers' shop without paying for it. Charley makes note of this but the Doctor claims that "it's probably stolen anyway".
While on board the star destroyer the Doctor mentions feeling something waking up, unknowingly referencing his encounter with the Cybermen on Telos in his second incarnation. (TV: The Tomb of the Cybermen)
Conflicts
Edit
Cybermen
Edit
A Cybermat is present on the Cybermen's ship.
Deeva has in her possession a powerful gun which is able to destroy Cybermen.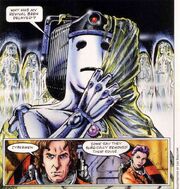 Sword of Orion is a remake of the Audio Visuals audio drama of the same name.
An illustrated preview for this story by Lee Sullivan appeared in DWM 301.
This story marks the first appearance of the Cybermen in an audio drama.
Continuity
Edit
External links
Edit
Big Finish monthly releases
All stories of the main monthly range are included in this navigation box including the "subscriber only" stories which are part of Big Finish Productions' subscription for this range. All other stories are represented in other navigation boxes.