Synthespians™ (novel)
Talk

0
32,683
articles in progress
Synthespians™ was the sixty-seventh BBC Past Doctor Adventures novel. It featured the Sixth Doctor and Peri Brown. This was author Craig Hinton's last Doctor Who novel (he wrote one further published Doctor Who work, AUDIO: Excelis Decays).
Publisher's summary
Edit
"We've been colonising planets for a thousand million years," she said, turning to the camera and giving her trademark smile. "All right, Mr. Matheson - I'm ready for my close-up."
In the 108th century, nostalgia is everything. Television from the 20th century is the new obsession, and Reef Station One is receiving broadcasts from a distant Earth of the past, transmitting them to a waiting audience.
When the Sixth Doctor and Peri arrive on Reef Station One, they find a fractured society, totally dependent on film and television. They also discover that the Republic's greatest entrepreneur Walter J. Matheson is in league with one of the Doctor's oldest enemies.
As the alien influence spreads its tentacles throughout the Republic, the Sixth Doctor and Peri must unravel the link between Walter J. Matheson's business empire and the invaders. Because, if they don't, they'll end up in the deadliest soap opera of all time.
to be added
Characters
Edit
References
Edit
Locations
Edit
Technology
Edit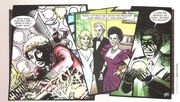 The first cover was created by James Gent for Craig Hinton as a proof of concept (like Spearhead from Space crossed with Dynasty).
Unfortunately Black Sheep (the cover designers for BBC Books' range throughout the PDAs) interpreted him directly. This image has basically the cast of Dynasty but as Autons (which was several breaches of copyright).
The third cover was approved for publishing, but the background and the two female Autons are both mirrored, necessitating the entire batch to be pulped. [1]
Continuity
Edit
to be added
Footnotes
Edit
External links
Edit