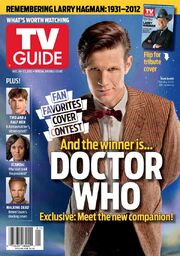 TV Guide is a bi-weekly television listings magazine in the United States. Its ubiquity, longevity and relative popularity are similar to that of Britain's Radio Times.
The first cover
Edit
Doctor Who's first cover for the magazine was the double-sized Christmas 2012 issue, which it was awarded after winning a popular vote against American-made shows The Walking Dead, The Vampire Diaries and Pretty Little Liars.[1] At the time, it was by far the highest-profile American magazine cover that the series had ever enjoyed. TV Guide is older than Doctor Who, which adds to the notability of Doctor Who's first cover coming as late as 2012.
Other coverage of Doctor Who Edit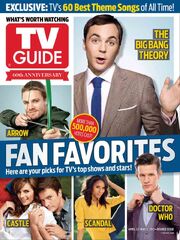 Despite the fact that the cover had never before featured the Doctor, the BBC Wales version of the program had attracted the attention of the Guide's writing staff. Notably, regular pundit Matt Roush had occasionally opined about the program, and had moderated Doctor Who's first professional American podcast appearance on Apple's 15 April 2010 edition of Meet the Filmmaker. During the event, Roush, in his capacity as an employee of TV Guide, introduced New York City and the rest of America to Matt Smith, Karen Gillan and Steven Moffat on their pre-series 5 publicity tour of the United States.
Also, following the first cover, Matt Smith again made it to the front, advertising Doctor Who on the issue current for the last week of April and the first week of May 2013.
Background
Edit
TV Guide is available throughout the United States by virtue of a decentralised printing and distribution structure that allows it to be placed on sale in virtually every grocery store and corner shop in the country. Although it existed regionally as early as the 1940s, its first national edition was published in 1953, whose cover famously captured some of the earliest photos of Lucille Ball's son, Desi Arnaz, Jr.
External links
Edit
Footnote
Edit