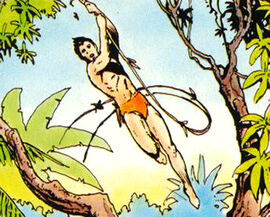 Tarzan was a fictional character created by Edgar Rice Burroughs, and the protagonist of the novel Tarzan of the Apes.
Ace nicknamed Nimrod (a Neanderthal, a primitive man perhaps resembling an ape) "Tarzan". (TV: Ghost Light)
When Hilary Pink asked the Eighth Doctor if he had ever read Tarzan of the Apes, the Doctor replied that he had met him, too. (PROSE: Eater of Wasps)
Behind the scenes
Edit
Ad blocker interference detected!
Wikia is a free-to-use site that makes money from advertising. We have a modified experience for viewers using ad blockers

Wikia is not accessible if you've made further modifications. Remove the custom ad blocker rule(s) and the page will load as expected.