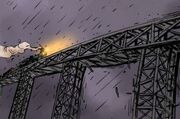 The Tay Bridge was a railway bridge near Dundee.
On 28 December 1879, the bridge broke and train which was on it crashed, killing over a hundred people. The next day, The Dundee Herald reported on the disaster. (COMIC: The Weeping Angels of Mons)
Someone saw a red light on the other side right after the collapse of the bridge. This mysterious light has become known as Phantom Light among railroad workers. In 1920, a signalman relayed this story to the Second Doctor. (AUDIO: The Mouthless Dead)
Ad blocker interference detected!
Wikia is a free-to-use site that makes money from advertising. We have a modified experience for viewers using ad blockers

Wikia is not accessible if you've made further modifications. Remove the custom ad blocker rule(s) and the page will load as expected.