The 100 Days of the Doctor (audio story)
Talk

0
32,717
articles in progress

The 100 Days of the Doctor was a 2007 Big Finish Productions full-cast audio short story, featuring the Sixth Doctor and Dr. Evelyn Smythe. It was part of 100, the one hundredth monthly Doctor Who audio release produced by Big Finish Productions.
It was notable for being Paul Cornell's only professionally published work to star the Sixth Doctor.
Publisher's summary
Edit
Someone has assassinated the Doctor. And he only has one hundred days to find out who did it.
to be added
References
Edit
The Doctor
Edit
Upon observing them, Evelyn describes the Fifth Doctor, the Seventh Doctor and the Eighth Doctor as being "lovely", seeming like "a rather jolly man" and "charming" respectively.
The Doctor and Evelyn comment on the conspicuous absence of the Doctor's first four selves from their journey.
The Doctor dislikes Braxiatel, whom he describes as being condescending, but does not doubt his trustworthiness.
The Sixth Doctor claims that being his fifth incarnation was "like a holiday. A very wonderful holiday."
Individuals
Edit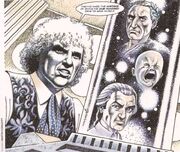 Continuity
Edit
Big Finish monthly releases
All stories of the main monthly range are included in this navigation box including the "subscriber only" stories which are part of Big Finish Productions' subscription for this range. All other stories are represented in other navigation boxes.