The Apocalypse Mirror was the sixty-seventh release in the Companion Chronicles audio range. It was the eleventh story of season 7. It was written by Eddie Robson and featured Jamie McCrimmon and Zoe Heriot.
Publisher's summary
Edit
The TARDIS lands in the city of Tromesis on Earth — but it's a world far from the one that the Doctor, Jamie and Zoe recognise.
The buildings are ruined, the streets deserted. And against the devastation they see a ghostly mirror image of another place — the city as it was before disaster hit.
People vanish here, and huge metal birds attack from the sky.
Can the Doctor find the future, in a place that doesn't have one?
Part one
Edit
to be added
Part two
Edit
to be added
References
Edit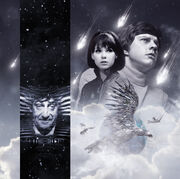 Continuity
Edit
External links
Edit
Ad blocker interference detected!
Wikia is a free-to-use site that makes money from advertising. We have a modified experience for viewers using ad blockers

Wikia is not accessible if you've made further modifications. Remove the custom ad blocker rule(s) and the page will load as expected.