The Beautiful People was the fourth release in The Companion Chronicles.
Publisher's summary
Edit
Put all your worries behind you.
Situated in fifty acres of relaxing sculpted gardens, the Vita Novus Health Spa offers a sanctuary from the stresses and strains of 32nd century life. Our exclusive programme of weight loss therapy is celebrated throughout the galaxy for its ease, simplicity and one-hundred-per-cent success rate. No matter how full-figured you may be, we can make you slimmer, healthier - and happier.
In fact, you will leave Vita Novus feeling like an entirely new person. And that's guaranteed.
We cater for all endoskeletal carbon-based life-forms. All major credit cards accepted. Parties welcome.
Part One: Too Good to Be True
Edit
to be added
Part Two: The Complete Makeover
Edit
to be added
Part Three: Slim Chances and Narrow Escapes
Edit
to be added
Part Four: Live and Let Diet
Edit
to be added
References
Edit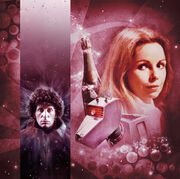 This story was recorded at The Moat Studios.
Jon Culshaw's brief cameo appearance as the character in The Kingmaker notwithstanding, this is the first Big Finish audio drama to feature the Fourth Doctor.
The Doctor and K9 are absent from parts two and three.
Along with The Pyralis Effect, this is one of only two appearances of K9 Mark II in The Companion Chronicles.
There are multiple sly references to "The Hitchhiker's Guide to the Galaxy" series by Douglas Adams. ("tired TV executives", the Doctor buys Romana a towel, etc)
Continuity
Edit
External links
Edit
Ad blocker interference detected!
Wikia is a free-to-use site that makes money from advertising. We have a modified experience for viewers using ad blockers

Wikia is not accessible if you've made further modifications. Remove the custom ad blocker rule(s) and the page will load as expected.