The Beginning (audio story)
Talk

0
39,706
articles in progress
The Beginning
was the seventy-third release in
the Companion Chronicles
audio range. It was the fifth story of season 8. It was written by
Marc Platt
and featured the
First Doctor
and
Susan Foreman
. Chronologically, it is the earliest
Doctor Who
story in any medium.
Publisher's summary
Edit
When the First Doctor and his grand-daughter Susan escape through the cloisters of Gallifrey to an old Type 40 Time Travel capsule, little do they realise the adventures that lie ahead… And little do they know, as the TARDIS dematerialises and they leave their home world behind, there is someone else aboard the ship. He is Quadrigger Stoyn, and he is very unhappy…
The First Flight (1)
Edit
to be added
Red Lightning (2)
Edit
to be added
Uncredited cast
Edit
Characters
Edit
References
Edit
Susan claims that she was too young to understand the reasons why she and the Doctor left Gallifrey.
The Doctor and Susan were being pursued by the Chancellery Guard.
Susan describes the Doctor's luggage as a large, bronze trunk that floated in the air.
Susan describes Gallifrey as "a brown, green, snow-capped planet."
Susan claims that the TARDIS was out of date and condemned to the junkyard while the Doctor believes that it has already been deregistered, explaining how they were able to escape through the transduction barriers.
The Doctor was a controversial figure on Gallifrey due to his views on the Time Lords' non-interference policy. He made powerful enemies in the process and was accused of being a meddler.
The Doctor was unfamiliar with Sol prior to his departure from Gallifrey. However, Susan learned of the existence of the solar system and Earth in her spatial cartography classes.
Stoyn tells the Doctor and Susan that the TARDIS was scheduled for incineration before they took it.
On the Moon, the TARDIS uses its chameleon circuit to disguise itself as a tall boulder.
The Doctor removes the TARDIS' dematerialisation circuit to prevent Stoyn from returning it and them to Gallifrey.
Stoyn claims that there are no grandfathers on Gallifrey anymore.
Stoyn describes the Doctor as "a crafty old shell snacker."
On a planet orbiting a blue sun, the TARDIS assumes the form of a giant mushroom.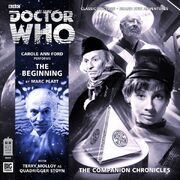 Continuity
Edit
External links
Edit