The Child was the sixty-second release in the Companion Chronicles audio range. It was the sixth story of season 7. It was written by Nigel Fairs and featured Leela.
Publisher's summary
Edit
"Tell me another story, Leela. Not the one about the walking doll or the creepy mechanical men. A new one. I want to hear a new one..."
Leela is dead but her soul lives on. She has been reborn as a young girl, Emily, whose "imaginary friend" tells her amazing tales about a great Wizard and the warrior who accompanies him on his adventures through time and space.
Emily prepares to tell her parents the story of a cold, grey world whose people are ruled over by a Glass Angel. The Wizard is her prisoner and only the warrior girl and her three peculiar friends can save him...
Part one
Edit
to be added
Part two
Edit
to be added
References
Edit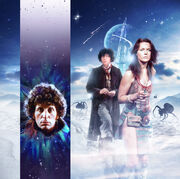 Continuity
Edit
External links
Edit
Ad blocker interference detected!
Wikia is a free-to-use site that makes money from advertising. We have a modified experience for viewers using ad blockers

Wikia is not accessible if you've made further modifications. Remove the custom ad blocker rule(s) and the page will load as expected.