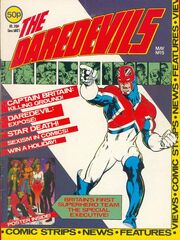 The Daredevils was a short-lived monthly comic book title published from January to November 1983. The eleven issues featured reprints of Daredevil comics and original Captain Britain comics written by Alan Moore, with art by Alan Davis. Issues 1 through 4 reprinted Spider-Man comics, which were replaced in issues 5 through 7 by Doctor Who Magazine reprints.
The three reprinted comics were Moore's Star Death, 4-D War and Black Sun Rising, coinciding with the introduction of Special Executive to the Captain Britain comic. There were also articles, original Night Raven prose stories and short comics, mostly written by Alan Moore. Alan Davis created a Special Executive pin-up for issue 5 and the issue 7 pin-up, which featured Captain Britain, Daredevil, Night Raven, and Special Executive.
Ad blocker interference detected!
Wikia is a free-to-use site that makes money from advertising. We have a modified experience for viewers using ad blockers

Wikia is not accessible if you've made further modifications. Remove the custom ad blocker rule(s) and the page will load as expected.