The Deadstone Memorial (novel)
45,674
articles in progress
Talk

0

The Deadstone Memorial was the seventy-first release in the BBC Eighth Doctor Adventures series. It was written by Trevor Baxendale. It featured the Eighth Doctor, Fitz Kreiner and Trix MacMillan.
Publisher's summary
Edit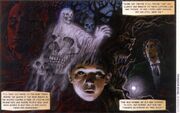 There is no such thing as a good night.
You may think you can hide away in dreams. Safely tucked up in bed, nothing can touch you.
But, as every child knows, there are bad dreams. And bad dreams are where the monsters are.
The Doctor knows all about monsters. And he knows that sometimes they can still be there when you wake up. And when the horror is more than just a memory, there is nowhere to hide.
Even here, today, tonight... in the most ordinary of homes, and against the most ordinary people, the terror will strike.
A young boy will suffer terrifying visions...
...and his family will encounter a deathless horror.
Only the Doctor can help — but first, he must uncover the fearsome secret of the Deadstone Memorial.
Chapter Titles
Edit
The Old Man
Hazel
Bedtime
House Call
Diagnosis
Scary Stories
The Ghost Hunters
Inscription
The Travellers
Time
Dinner
Closer Than You Think
Lost
The Ghost
Night Terrors
Plan of Action
The Cellar
The Dead Ghost
Dark Dreams
The Doctor's Ghost
Jade
Quiet Time
Contact
Graveside
Visitors
Missing
Interview With a Traveller
The Hanging of Henry
Digging the Dirt
Beast
Escape
Extraction
The Hanged Man
Ground Force
One for the Pot
Deadstone
Death at Last
Contact
Gone
Still Dreaming
Characters
Edit
References
Edit
The Doctor's Gladstone bag contains Gobstoppers, Fizz Bombs, Jelly Babies, an Eagle comic from the 1950s and a psionic beam locator.
The Doctor met Edgar Allan Poe during his exile on Earth.
The Doctor once witnessed psychic possession on the planet Kufan.
to be added
Continuity
Edit
External links
Edit