The Doctor Trap was the twentieth Tenth Doctor novel released.
Publisher's summary
Edit
Sebastiene was perhaps once human. He might look like a 19th-century nobleman but in truth he is a ruthless hunter. He likes nothing more than luring difficult opposition to a planet then hunting them down for sport. And now he's caught them all - from Zargregs to Moogs, and even the odd Eternal...
In fact, Sebastiene is after only one more prize. For this trophy, he knows he is going to need help. He's brought together the finest hunters in the universe to play the most dangerous game for the deadliest quarry of them all. They are hunting for the last of the Time Lords - the Tenth Doctor.
to be added
Characters
Edit
References
Edit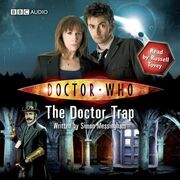 Continuity
Edit
Audio release
Edit
External links
Edit
Ad blocker interference detected!
Wikia is a free-to-use site that makes money from advertising. We have a modified experience for viewers using ad blockers

Wikia is not accessible if you've made further modifications. Remove the custom ad blocker rule(s) and the page will load as expected.