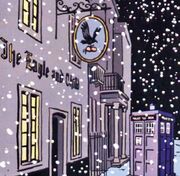 The Eagle and Child was a pub at which the Inklings met. The Eleventh Doctor and Amy once visited there, sometime well before C. S. Lewis' death on 22 November 1963 and heard Lewis read from The Lion, the Witch and the Wardrobe. When opinions were solicited, the Doctor said the story — which then included a magic library — would work better if the divide that transported the protagonists to another world were, instead, a wardrobe. J. R. R. Tolkien, who was also present, disliked the work, saying that he thought it was a "jumble of unrelated mythologies", "derivative", and possessed of unconvincing allegory. (COMIC: The Professor, the Queen and the Bookshop)
Ad blocker interference detected!
Wikia is a free-to-use site that makes money from advertising. We have a modified experience for viewers using ad blockers

Wikia is not accessible if you've made further modifications. Remove the custom ad blocker rule(s) and the page will load as expected.