The End of the Line was the first full cast audio story in the The Sixth Doctor: The Last Adventure audio anthology released in 2015 by Big Finish Productions. Due to the anthology having its release date pushed forward, it was the first audio released to feature the Doctor's companion Constance Clarke, before her actual debut story was released.
It saw the second time both the Master and the Valeyard have been involved in the same story in a performed production, the first being 1986's The Trial of a Time Lord arc.
Publisher's summary
Edit
The Doctor and his latest companion Constance investigate a commuter train that has lost its way...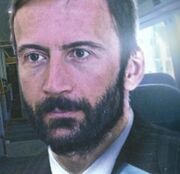 The Doctor and Constance Clarke find themselves lost in the fog. Luckily, they're not too far from Kettering Junction, a Midlands railways station that service a large among of daily commuters heading to London. They're not alone – passengers and staff from a nearby commuter train have made their way to the station after their train stopped. Meeting a local trainspotter, the Doctor and his fellow travelers soon make several discoveries. One, Kettering Junction should have twelve platforms, not seventeen. Two, each platform holds an identical commuter train, some in pristine condition and other caked with blood. And three, there are distant and bloodcurdling screams coming from the fog – screams that exactly like those of the passengers and staff…
Uncredited
Edit
References
Edit
Continuity
Edit
External links
Edit
Footnotes
Edit
Ad blocker interference detected!
Wikia is a free-to-use site that makes money from advertising. We have a modified experience for viewers using ad blockers

Wikia is not accessible if you've made further modifications. Remove the custom ad blocker rule(s) and the page will load as expected.