The Eye of the Scorpion (audio story)
Talk

0
32,743
articles in progress

The Eye of the Scorpion was the first time that a new companion for the Fifth Doctor was introduced in an audio story. Erimem joined Evelyn Smythe and Charley Pollard, two other companions created by Big Finish Productions.
Publisher's summary
Edit
Egypt is in mourning. Pharaoh, the great God-King, is dead. The future of the Two Kingdoms of Egypt is shrouded in uncertainty as the Council of Priests debates the claim to the throne of Pharaoh's only heir.
Out in the deserts around Thebes, Egypt's capital, a warlord chief is assembling an army of mercenaries, waiting for just the right moment to strike at Egypt's heart.
But not all of Egypt's enemies are outside the city. What is the secret of the strange box discovered in the desert?
When the TARDIS arrives nearby, it has apparently been hi-jacked... by the Doctor?
to be added
References
Edit
Individuals
Edit
Erimem's full name is Erimemushinteperem, which means "Daughter of Light". She is the daughter of the late Pharaoh Amenhotep II and Rubak, one of his sixty concubines. She is seventeen and had three elder half-brothers, all of whom have died in suspicious circumstances over the course of the previous year. She does not believe in the Egyptian gods.
Peri is a vegetarian and therefore baulks at the thought of eating roast boar at a banquet thrown in her and the Doctor's honour by Erimem. The Doctor advises her to pretend to have eaten it by moving it around her plate.
Locations
Edit
Peri refers to Lanzarote as where she went to school and how Americans choose their leaders through elections.
The Atlanteans built the Sphinx and stored a cache of technology underneath it, though this may have been a hoax on the Doctor's part to trick the mind parasite.
Politics
Edit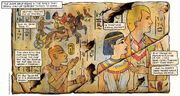 Continuity
Edit
External links
Edit
Big Finish monthly releases
All stories of the main monthly range are included in this navigation box including the "subscriber only" stories which are part of Big Finish Productions' subscription for this range. All other stories are represented in other navigation boxes.