The Fearmonger was the fifth story in Big Finish's monthly Doctor Who range.
It was the first audio story featuring Sylvester McCoy as the Seventh Doctor and Sophie Aldred as Ace. It was also the first time the two actors had been back together playing these parts since 1993's Dimensions in Time.
Written by Jonathan Blum, this story continues Ace's continuity developed in other mediums such as her surname where here, like in the Virgin New Adventures novel Set Piece, it is stated to be McShane.
Publisher's summary
Edit
One would-be assassin is in a mental ward. Another's on the run. Their intended victim is stirring up the mobs. Terrorists are planning a strike of their own. A talk-radio host is loving every minute of it. A Whitehall insider whispers about a mysterious UN operative, with a hidden agenda. Everyone's got someone they want to be afraid of. It'll only take a little push for the situation to erupt — and something is doing the pushing. But you can trust the Doctor to put things right. Can't you?
to be added
References
Edit
The Doctor
Edit
The Doctor has several melancholy moments during this adventure, musing at one point that he is so old he fears nothing now, apart from the fear of Ace's death — which nearly happens when she is shot by Alexsandr Karadjic of the United Front.
He claims that his relatives are very odd.
Individuals
Edit
Organisations
Edit
Several references are made to the Doctor's past involvement with UNIT. UNIT appears to have been particularly lax with the Doctor's file of late — besides a well-connected source like Roderick Allingham having access to it, students Walter Jacobs and Stephen Keyser have also seen a copy.
Roderick Allingham, the New Britannia Party's media manager, worked for Department C19 for many years.
Politics
Edit
Ethnic tensions are high: hate groups like Black Lightning and the White Wolves are committing terrorism and the New Britannia Party looked like it might win even before the United Front plot.
The UK government has waited a full term (1997 to 2002) to have the election.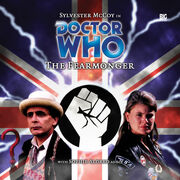 The cover of The Fearmonger was the first to be designed by future Doctor Who Magazine editor and DVD cover designer Clayton Hickman. The "fist" motif was inspired by one on a Tom Robinson album.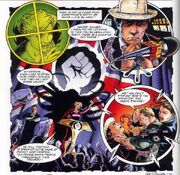 Continuity
Edit
External links
Edit
Big Finish monthly releases
Fifth Doctor
Adric, Nyssa, Tegan
Nyssa
Nyssa, Brewster
Nyssa, Hannah
Tegan, Nyssa
Tegan, Turlough, Nyssa
Turlough
Peri
Peri, Erimem
Amy
Solo travels
All stories in the main monthly range are included in this navigation box including the "subscriber exclusive" stories which are part of Big Finish Productions' subscription service for this range. All other stories are represented in other navigation boxes.
Ad blocker interference detected!
Wikia is a free-to-use site that makes money from advertising. We have a modified experience for viewers using ad blockers

Wikia is not accessible if you've made further modifications. Remove the custom ad blocker rule(s) and the page will load as expected.