The First Wave was the forty-ninth release in the Companion Chronicles audio range. It was the fifth story of season 6. It was written by Simon Guerrier and featured Steven Taylor and Oliver Harper.
Publisher's summary
Edit
Caught in the inevitable path of its own history, the TARDIS arrives on the planetoid Grace Alone, where the Doctor, Steven and Oliver expect to face their fate. What they don't expect to find is a massacred crew — and a race of alien invaders known as the Vardans.
When the Doctor is apparently killed, his companions attempt to survive against the odds. But those odds are narrowing. Their borrowed time has expired.
The First Wave (1)
Edit
to be added
The Last Wave (2)
Edit
to be added
Uncredited cast
Edit
References
Edit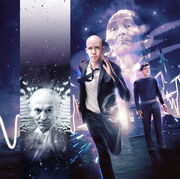 This story marks the first appearance of the Vardans in an audio drama.
Continuity
Edit
External links
Edit
Ad blocker interference detected!
Wikia is a free-to-use site that makes money from advertising. We have a modified experience for viewers using ad blockers

Wikia is not accessible if you've made further modifications. Remove the custom ad blocker rule(s) and the page will load as expected.