The Gathering (audio story)
Talk

0
32,652
articles in progress
The Gathering was the eighty-seventh monthly Doctor Who audio story produced by Big Finish Productions. This is the first audio story to feature Janet Fielding as Tegan Jovanka, her first reprisal of the role since 1985's A Fix with Sontarans and her first full story since 1984's Resurrection of the Daleks. This is also, so far the only story to feature only the Fifth Doctor and Tegan Jovanka without any other companions.
Publisher's summary
On the morning of 22 September 2006, Tegan woke up. She was expecting to spend the day relaxing at home and, that evening, tolerate a party thrown to celebrate her 46th birthday.
But things don't always go as expected. It's been over twenty years since she chose to leave the Doctor. She's got a job, mates...a life.
Meanwhile her friend, Katherine Chambers, makes a decision that could change all their lives, and Tegan discovers that you can never really escape the past...
Plot
to be added
Cast
References
Culture
The Doctor
Alan claims that there is no record of the Doctor travelling alone during his fifth incarnation. He is somewhat disappointed that it was not the Seventh Doctor who travelled to the Gogglebox, as he believes that he "knows everything."
Individuals
Tegan mentions having friends "mowed down by Daleks," her possession by the Mara and nearly being killed by the Cybermen.
Tegan has taken over her father's stock feed company Verney Food Supplies, which he presumably inherited from her maternal grandfather Andrew Verney. Her mother is still alive and calls to wish her a happy birthday.
Notes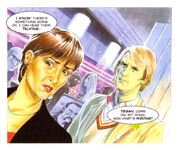 Continuity
External links