The Girl Who Never Was (audio story)
Talk

3
39,503
articles in progress
The Girl Who Never Was was the one hundred and third monthly Doctor Who audio release produced by Big Finish Productions. This was the last audio story to feature the Eighth Doctor and Charlotte Pollard travelling together. However it is not the final appearance for Charlotte Pollard who goes on to travel with the Sixth Doctor beginning with The Condemned.
Publisher's summary
"Dot dot dot, dash dash dash, dot dot dot. Someone's listening. Somewhere."
A ghost ship.
A girl with no memory, adrift in time.
An old enemy.
This could be Charlotte Pollard's finest hour — or her last.
Set course for Singapore, 1931.
Journey's end.
Plot
to be added
Cast
References
Astronomical objects
Cybermen
The Doctor
Individuals
Technology
The Doctor and Charley saw a form of radar-jamming device on Quaxan IV.
Theories and concepts
Time travel
Notes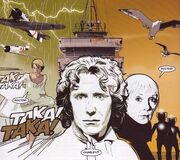 Continuity
External links
Big Finish monthly releases
All stories of the main monthly range are included in this navigation box including the "subscriber only" stories which are part of Big Finish Productions' subscription for this range. All other stories are represented in other navigation boxes.