The Great War (audio story)


The Great War was the first full cast audio story in the Dark Eyes audio anthology released in 2012 by Big Finish Productions. It featured Paul McGann as the Eighth Doctor and Ruth Bradley as Molly O'Sullivan. This was the first story to advance the Eighth Doctor's tale forwards following 2011's To the Death. The cover and that of the box set feature a new look for the Eighth Doctor whose appearance on the covers of audios and in their in-universe description had not majorly diverted from his appearance in the 1996 television movie.
Publisher's summary
edit
Voluntary Aid Detachment nursing assistant Molly O'Sullivan spends her days facing the horrors of the Great War. Little does she know that a man from another world has arrived, looking for her.
But what are the strange sounds coming from the battlefield at night? Where is the glowing gas coming from? And is everyone who they claim to be?
to be added
References
edit
Earth nations
edit
Individuals
edit
Molly is a Voluntary Aid Detachment nursing assistant. Prior to the outbreak of the war, she served as Kitty Donaldson's chambermaid in her parents' house in London.
The Doctor refers to Kaiser Wilhelm II.
Isabel thinks that Americans are strange because of the strange behavior of the camp's doctor.
Molly refers to the Doctor as "the Doctor" and she continues to call him that with sarcasm.
Time travel
edit
The supposed glowing gases are in actuality time winds which are leaking through to World War I-era France from the Time Vortex.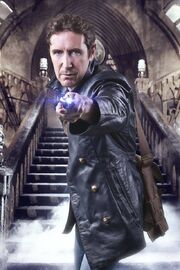 Continuity
edit
External links
edit