The Krillitane Storm (novel)
Talk

0
32,662
articles in progress
Published in September 2009, The Krillitane Storm was one of the last set of three original novels published featuring the Tenth Doctor in the standard BBC New Series Adventures line.
Publisher's summary
When the TARDIS materialises in medieval Worcester, the Tenth Doctor finds the city seemingly deserted. He soon discovers its population are living in a state of terror, afraid to leave their homes after dark, for fear of meeting their doom at the hands of the legendary Devil's Huntsman.
For months, people have been disappearing, and the Sheriff has imposed a strict curfew across the city, his militia maintaining control over the superstitious populace with a firm hand, closing the city to outsiders. Is it fear of attack from beyond the city walls that drives him or the threat closer to home? Or does the Sheriff have something to hide?
After a terrifying encounter with a deadly Krillitane, the Doctor realises the city has good reason to be scared.
Characters
References
The Doctor thinks of Donna Noble, remembering that she always knew when to stop.
The Ood-Sphere is mentioned. (TV: Planet of the Ood)
The first moon landing is mentioned.
The colonisation of Mars (TV: The Waters of Mars) is mentioned.
When the Doctor is trying to get through a tight space, he considers it lucky that he is in his tenth incarnation, believing that his sixth incarnation would be too chubby to get through the gap.
Notes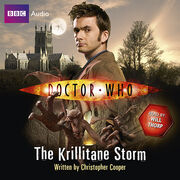 Continuity
This is at least the third time the Doctor has encountered the Krillitanes. The first time they were humanoid with very long necks, the second time like bats at Deffry Vale High School. (TV: School Reunion) In this story, they are at a transition stage, with the wings and heads of the ones encountered at Deffry Vale, but with elongated necks and forked tails.
The doctor encounters a group of thirteen Krillitanes here, the same number that he, Rose Tyler, Mickey Smith, Sarah Jane Smith and K9 encountered at Deffry Vale High. (TV: School Reunion)
Audio release
The story was released as an audiobook on 6x CD read by Will Thorp.
The audiobook is also available as a download from the AudioGo website.
External links