The Land of the Dead
was the fourth story in
Big Finish's
monthly
Doctor Who range
.
It was the first audio story to feature Nyssa, played by Sarah Sutton.
Publisher's summary
Edit
Landing in Alaska, the Doctor and Nyssa encounter a group of people in a most unusual house, cut off not only by the harsh climate but by their individual secrets and obsessions.
Millionaire Shaun Brett is utilising chunks of the local area to construct a shrine to his dead father. But when deadly creatures start roaming outside, and a terrifying discovery is made inside the house, the Doctor realises that Brett has unleashed an unimaginably ancient force.
to be added
to be added
to be added
to be added
References
Edit
The Doctor notes, a little defensively, that several elements of the TARDIS are not working quite as well as they should, particularly the visual sensors and audio circuits.
Tulung was born in Alaska in 1954 to an archaeologist from Colorado and a Koyukon woman.
Shaun Brett has stocked his artificial habitat with sea lions.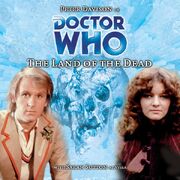 Continuity
Edit
External links
Edit

Big Finish monthly releases
Fifth Doctor
Adric, Nyssa, Tegan
Nyssa
Nyssa, Brewster
Nyssa, Hannah
Tegan, Nyssa
Tegan, Turlough, Nyssa
Turlough
Peri
Peri, Erimem
Amy
Solo travels
All stories in the main monthly range are included in this navigation box including the "subscriber exclusive" stories which are part of Big Finish Productions' subscription service for this range. All other stories are represented in other navigation boxes.
Ad blocker interference detected!
Wikia is a free-to-use site that makes money from advertising. We have a modified experience for viewers using ad blockers

Wikia is not accessible if you've made further modifications. Remove the custom ad blocker rule(s) and the page will load as expected.