The Mind's Eye was the one hundred and second monthly Doctor Who audio release produced by Big Finish Productions. Released in November 2007, it was a three-part story, produced in Big Finish Productions' experimental era, when a three-part story and a one-part story were released on the same disc. This is the only instance of a three-part audio story featuring the line-up of the Fifth Doctor, Peri and Erimem. One other three-part story featuring the Fifth Doctor and Peri was produced: Exotron.
Publisher's summary
Edit
The Mind's Eye (A Three-Part Story)
This is a warning to all space farers. You must keep away from this planet. It's hostile, repeat, hostile.
On a planet with no name, the Doctor finds himself confronted by a faulty memory and some killer plants.
In a distant galaxy, Erimem leads a troubled empire.
Back on Earth, Peri tells her son about the good old days when she used to travel with a man called the Doctor.
to be added
References
Edit
to be added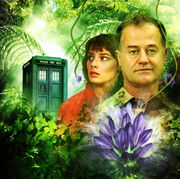 Continuity
Edit
External links
Edit
Big Finish monthly releases
Fifth Doctor
Adric, Nyssa, Tegan
Nyssa
Nyssa, Brewster
Nyssa, Hannah
Tegan, Nyssa
Tegan, Turlough, Nyssa
Tegan, Leela
Turlough
Peri
Peri, Erimem
Amy
Solo travels
All stories in the main monthly range are included in this navigation box including the "subscriber exclusive" stories which are part of Big Finish Productions' subscription service for this range. All other stories are represented in other navigation boxes.