The Next Life (audio story)
52,282
articles in progress
Talk

0

The Next Life was the sixty-fourth monthly Doctor Who audio story produced by Big Finish Productions. It was the final Big Finish Doctor Who audio story to feature Paul McGann as the "current" Doctor, since his next release AUDIO: Terror Firma would not be until after not only Christopher Eccleston's debut in TV: Rose but David Tennant's debut in TV: The Parting of the Ways. More significantly, it concluded the adventures set in the Divergent Universe that had begun at the end of AUDIO: Zagreus. At six episodes, it was unusually long, especially for an Eighth Doctor audio.
Publisher's summary
Edit
'All things must die.'
Washed up on the sandy shores of a paradise island, a wild-eyed shipwreck survivor is rescued by the wife of Daqar Keep, the richest man in the galaxy.
Her name's Perfection. He's the Doctor. Together, they face a journey into the dark heart of this mysterious island, to discover the deepest secrets of this timeless cosmos. That's if the giant crabs, killer crocodiles and murderous natives don't get them first.
Meanwhile, fellow travellers Charley and C'rizz have their own ordeal to endure, in the grip of the Doctor's most dangerous rival.
And in a universe that's facing extinction, even the best of friends may soon become enemies...
This life is almost over. Not everyone will make it to the next.
Part One
Edit
to be added
Part Two
Edit
to be added
Part Three
Edit
to be added
Part Four
Edit
to be added
Part Five
Edit
to be added
Part Six
Edit
to be added
Uncredited cast
Edit
References
Edit
The Doctor
Edit
C'rizz describes the Doctor as having "shaggy hair."
The Doctor is approximately 950 years old.
The Doctor says that Charley is "sort of pretty".
Individuals
Edit
The Doctor refers to C'rizz as "the Colourful Chameleon."
Charley's uncle Jacques lived in Cannes after World War I. He was a concert pianist until he lost one of his arms at the Battle of Passchendaele. He taught her how to speak French.
C'rizz does not fully grasp the concept of time but understands the general idea.
On 4 October 1930, Simon Murchford told Charley that his father had not worked since 1926.
Murchford lost many good friends during World War II.
Charley describes the Kro'ka as "a complete fraud and malicious piece of excrement in dire need of a damn good hiding" and "a little blobby weasel who does the Divergence's dirty work."
The Doctor, Charley and C'rizz have been in the Divergent Universe for several months.
According to Guidance, C'rizz is "a broodling of the third order." He claims that he was a late developer.
In year fifty at the Academy, the First Doctor fed a snapping wart fowl to his fellow student Valyes' summer project. Valyes has held a grudge ever since.
The Doctor says that as a "teenager," he was a terror until the age of 120, claiming that he was a late developer.
Charley has told C'rizz about King Edward VII.
After Charley expresses her admiration for Rassilon, C'rizz suggests that she has a thing for Time Lords.
Perfection claims that Daqar Keep is the richest man in the galaxy.
C'rizz had a brother.
Guidance refers to Perfection as the Doctor's whore while Charley calls her a "cold, heartless cow."
Davros briefly appears when the Doctor, Charley and C'rizz return to the normal universe, leading into AUDIO: Terror Firma.
Technology
Edit
The Divergent Universe
Edit
There are nine galaxies in the Divergent Universe.
Religion
Edit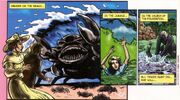 Continuity
Edit
External links
Edit
Big Finish monthly releases
All stories in the main monthly range are included in this navigation box including the "subscriber exclusive" stories which are part of Big Finish Productions' subscription service for this range. All other stories are represented in other navigation boxes.