The Nightmare of Black Island (novel)
Talk

0
32,723
articles in progress

The Nightmare of Black Island was the fourth Tenth Doctor novel released.
Publisher's summary
Edit
On a lonely stretch of Welsh coastline a fisherman is killed by a hideous creature from beneath the waves. When the Doctor and Rose arrive, they discover a village where the children are plagued by nightmares, and the nights are ruled by monsters.
The villagers suspect that ancient industrialist Nathanial Morton is to blame, but the Doctor has suspicions of his own.
Who are the ancient figures that sleep in the old priory? What are the monsters that prowl the woods after sunset? What is the light that glows in the disused lighthouse on Black Island?
As the children's nightmares get worse, The Doctor and Rose discover an alien plot to resurrect an ancient evil...
Characters
Edit
References
Edit
The Doctor quotes 'Jabberwocky' while walking through the woods for the first time.
The Nestene Consciousness, a Raxacoricofallapatorian and a Dalek all make cameo appearances.
The Cynrog, dark green aliens with wrinkled and ridged skin, tufts of greasy hair, a pug-like nose and a ridge of transparent spines running over the tops of their heads.
Balor. It has hard, chitinous plates covering its back and arms, studded with spines. Its neck is full of tentacles, the head flat and elongated, with a bony plate that opens in a frill. It has six insect-like legs and a scorpion tail, with poisonous spines.
This story was also released as an ebook available from the Amazon Kindle store.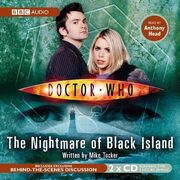 One could argue Balor was inspired by Scaroth. Both have pieces of themselves scatter into different parts, though the way it was done was different of course.
Continuity
Edit
to be added
Audio release
Edit
The story was released as an audiobook on 2x CD read by Anthony Head.
The audiobook is also available as a download from the AudioGo website.
External links
Edit