The One Doctor was the twenty-seventh monthly Doctor Who audio story produced by Big Finish Productions. It featured Colin Baker as the Sixth Doctor and Bonnie Langford as Melanie Bush. This audio was released in December 2001 and was considered Big Finish's "Christmas release". It has a notably comic slant to the story. It is the first of two Christmas releases in the main range, the second being AUDIO: Bang-Bang-a-Boom!. Both stories feature Mel.
Publisher's summary
Edit
When the evil Skelloids launch an attack upon the seventeen worlds of the Generios system, its peace-loving inhabitants face total destruction.
So it's lucky that the Doctor, that famous traveller in time and space, is in the area, and that he, along with his pretty young assistant, Sally-Anne, manages to defeat the deadly creatures and save the day.
But now it looks as though the Doctor's luck has run out.
Who is the mysterious, curly-haired stranger, intent on causing trouble? What role does the feisty redhead Melanie play in his scheme? And what have they to do with the sinister alien cylinder approaching Generios?
One thing is certain: for the Doctor and Sally-Anne, there's deadly danger ahead...
to be added
References
Edit
The Doctor
Edit
Individuals
Edit
Locations
Edit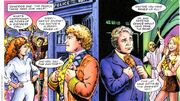 Three Great Treasures of Generios
Edit
UNIT ZX419, also known as the Shelves of Infinity, are infinite and therefore impossible to put up.
Mentos; or rather the control box to Mentos.
The largest diamond in existence.
Continuity
Edit
External links
Edit
Big Finish monthly releases
Fifth Doctor
Adric, Nyssa, Tegan
Nyssa
Nyssa, Brewster
Nyssa, Hannah
Tegan, Nyssa
Tegan, Turlough, Nyssa
Turlough
Peri
Peri, Erimem
Amy
Solo travels
All stories in the main monthly range are included in this navigation box including the "subscriber exclusive" stories which are part of Big Finish Productions' subscription service for this range. All other stories are represented in other navigation boxes.
Ad blocker interference detected!
Wikia is a free-to-use site that makes money from advertising. We have a modified experience for viewers using ad blockers

Wikia is not accessible if you've made further modifications. Remove the custom ad blocker rule(s) and the page will load as expected.