The Rapture (audio story)
50,059
articles in progress
Talk

0

The Rapture was the thirty-sixth monthly Doctor Who audio story produced by Big Finish Productions. It featured the Seventh Doctor played by Sylvester McCoy and Ace played by Sophie Aldred. This was the fifth audio story to feature this pairing of Doctor and companion. Each episode featured remixes of the Doctor Who theme, a device employed by Big Finish on numerous occasions.
Publisher's summary
Edit
Ibiza, 1997, and thousands of young people are acting like mindless zombies.
Which is to be expected. Ibiza, the island of dance music, sex, drugs and alcohol, is the ultimate hedonistic paradise.
God has sent help from on high to save the sinners of Ibiza. He has sent His angels to save their souls.
Which would be simple enough if these souls didn't include an alien time-traveller working in a bar, a woman who disappeared in 1987, a young man carrying a photograph of a girl he's never met and an Irish girl who doesn't even know who she is anymore.
to be added
References
Edit
The Doctor
Edit
The Doctor fought with Gustavo's father during the Spanish Civil War (1936-1939). Gustavo was a small boy at the time. The Doctor later took him to Ibiza to protect him from the horrors of the war.
The Doctor tells Gustavo that Ace is like him in that he "attracts trouble". Gustavo suggests that it may be trouble which attracts him.
The Doctor knows how to make Sofrit Pages and sangrias.
Individuals
Edit
Ace's full name is given as Dorothy Gale McShane. She was born on 20 August 1970 to Audrey and Harry McShane.
Ace's younger brother Liam McShane was born in 1974. He was suffering from depression when he started university in 1993 as his father had recently died. His best friend Caitriona Henderson helped him through it but she is now suffering from depression herself.
Gustavo has lived on Ibiza for many years. He considered returning to mainland Spain but eventually decided against it.
Ace promises Liam that she will come back one day and see him.
Earth history
Edit
Television series
Edit
Films from the real world
Edit
Ace tells Brian that she is from "over the rainbow." An illusory version of Tony Blackburn later tells Caitriona to kill Ace by "dropping a house on her."
When the Doctor realises that the glowing on Es Vedrà is caused by Jude and Gabriel's inter-dimensional portal, Liam compares it to the relevant portal device from the science fiction film Stargate. The Doctor comments, "Yes but with better acting."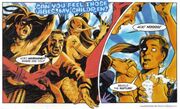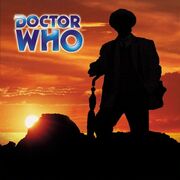 Continuity
Edit
External links
Edit
Big Finish monthly releases
All stories of the main monthly range are included in this navigation box including the "subscriber only" stories which are part of Big Finish Productions' subscription for this range. All other stories are represented in other navigation boxes.