The Red House was the second full cast audio story in the The Sixth Doctor: The Last Adventure audio anthology released in 2015 by Big Finish Productions.
Publisher's summary
Edit
The Doctor and Charlotte Pollard arrive on a world that is populated by werewolves.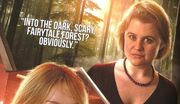 to be added
References
Edit
Charley describes herself as an "Edwardian adventuress", but notes that she is technically a "Georgian adventuress" as her monarch was King George V. She sees the Georgian era as associated more with Jane Austen.
The Doctor's pocket-watch was given to him by Beau Brummell, the "king of the dandies".
Charley is intricately bound to the Web of Time.
Continuity
Edit
External links
Edit
Ad blocker interference detected!
Wikia is a free-to-use site that makes money from advertising. We have a modified experience for viewers using ad blockers

Wikia is not accessible if you've made further modifications. Remove the custom ad blocker rule(s) and the page will load as expected.