The Severed Man was the fifth novel in the Time Hunter series published by Telos Publishing. It was written by George Mann.
Publisher's summary
Edit
What links a clutch of sinister murders in Victorian London, an angel appearing in a Staffordshire village in the 1920s and a small boy running loose around the capital in 1950? When Honoré and Emily encounter a man who appears to have been cut out of time, they think they have the answer. But soon enough they discover that the mystery is only just beginning and that nightmares can turn into reality.
Part mystery, part detective story, part dark fantasy, part science fiction ... original adventures in time and space.
to be added
Characters
Edit
References
Edit
to be added
to be added
Continuity
Edit
Audio release
Edit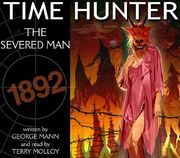 The story was released as an audiobook read by Terry Molloy.
External links
Edit
Ad blocker interference detected!
Wikia is a free-to-use site that makes money from advertising. We have a modified experience for viewers using ad blockers

Wikia is not accessible if you've made further modifications. Remove the custom ad blocker rule(s) and the page will load as expected.